5 Ways to Increase Your Curb Appeal
Curb appeal. Chances are you've heard this term often as its one of the many buzz words thrown around in real estate. Curb appeal is exactly what it sounds like - the (strictly) visual appeal your home has when viewed from the front, or curb. Drive down any street and you'll immediately get a sense of which homes have it, and which don't.
While not the most critical piece to a property sale, it certainly carries a lot of weight in making that oh-so-important first impression. Curb appeal can play a big role in a home sale, even on a level as simple as getting buyers through the door.
Including not only the actual house, but the entire property, lawn, entry, yard and garden - even the mailbox - are focal points for potential buyers when taking in the visual appeal of a home. It serves more than just to entice them with a beautiful home and piece of land, it also signals the pride of you, as the current owner, in taking care of the property over the years. If your outside looks neglected, it can be a huge turnoff to buyers. With a large purchase like a home, in most cases buyers want something they can be proud of, and a dilapidated yard is tough to overlook.
Here's a few ideas on how to improve your home's curb appeal:
PROPERTY
Landscaping/Plants/Garden
If you are seeing more dirt than grass, take some time to improve your lawn and fill in the spaces for a lush, green look. Weed and edge out the flower beds, then add some fresh mulch for a striking contrast. Purchase some seasonal flowers to bring color to the garden, but don't overdo it. You're going for a clean, well maintained asthetic. Think of it as "staging" for the outside of your home.
Walkway
Adding a walkway from the street or sidewalk to your front door really gives your home a more welcoming and completed look. It may not be for everyone, but a few brick pavers or a stone walkway lined with flowers and/or lighting add a lot of distinction to the front of a home.
Mailbox
The mailbox is a key player in curb appeal. It would be unfortunate to see a beautiful home with an old rusty mailbox blocking the view from the street. It doesn't have to be a custom jaw dropper either. Just a simple standard mailbox that is clean with legible text or numerals and attached to a secure post that is not leaning, rotting or falling over. Its a bit comical, but you'd be surprised how many mailboxes are left that way once you start looking!
HOUSE EXTERIOR
Entry
The front door and entry are the main focus of the actual house from the street. A clean door with new paint is a simple fix to refresh. Symmetry plays well, and can be achieved with plants, lighting and hardware. These can add a lot of character to the entry between knobs, handles, kick plates, sconces and even path lights. Potted plants framing the door or portch give a clean, classic look. The key is simplicity. A few well placed plants and carefully picked hardware can completely transfom an entry.
Paint and Trim
A larger scale update would be a complete repait of the exterior and trim of the house. A nice soft neutral is always pleasant. On the opposite spectrum bold saturated colors such as deep blue are growing in popularity. Pick a contrasting trim color and your home's unique personality will really shine through. Adding shutters and even flower boxes to the front windows can really round out the look, again, accentuating symmetry on the fascade.
If you feel a bit overwhelmed or aren't exactly sure where to start, it helps to do a an image search to get some ideas and a sense of what works and what seems like overkill. Further still, you could contact a landscape designer or talk to a professional at your local hardware store to help design a look that fits your taste and budget.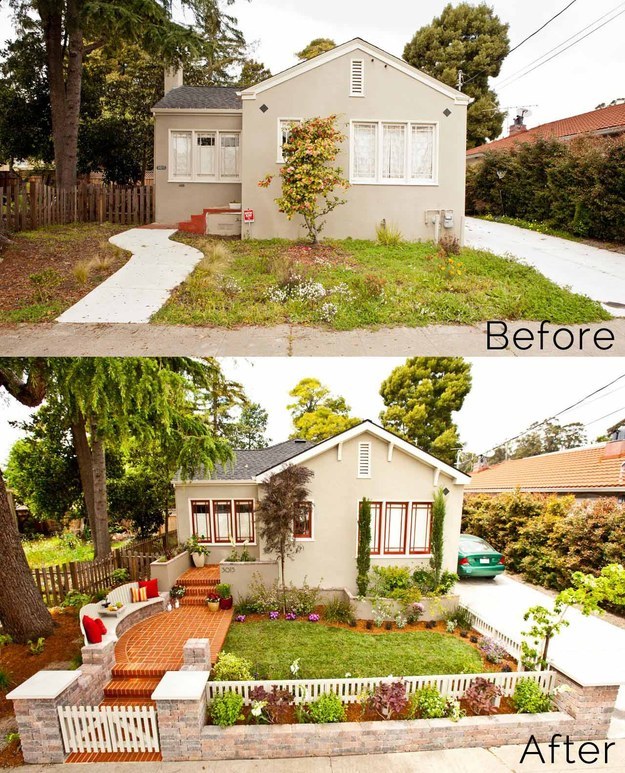 In any case, I guarantee that it will be worth your time to help increase the percieved value of your home, and in turn, your home sale. Plus, whats wrong with being the prettiest house on the block?

Thinking of selling? Talk to Faira! We take care of everything you need to sell your home - free! Our modern, transparent process is changing the way homes are bought and sold in Seattle.
Learn more about selling your home with Faira